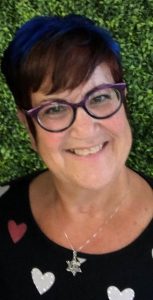 Shalom! My name is Susana Greenberg and I have been elected your 2019 Vice President. As part of my duties I have been given the responsibility for overseeing the LCJCAC website and Bulletin. I am excited to announce that we are in the process of formulating new enhanced and comprehensive topics that you will see very shortly. For now, here is a list of some of the changes you will see:
The bulletin will now be published monthly. It will include all of the information you will need about services and events for the coming month, and will reflect upon the previous months activities.
A big focus going forward will be a continuously updated Calendar of Events. The calendar will be included in the bulletin and can also be accessed on the new http://lakechapalajewishcongregation.com/.  To keep the calendar up-to-date I will need support from all of you in notifying me of life events, holidays, celebrations, etc
Members are our most important asset and there will be renewed emphasis on highlighting new members frequently.  
And last, please feel free to pen an article for the bulletin or send us photographs of you and your fellow congregants enjoying events, services and fellowship together.