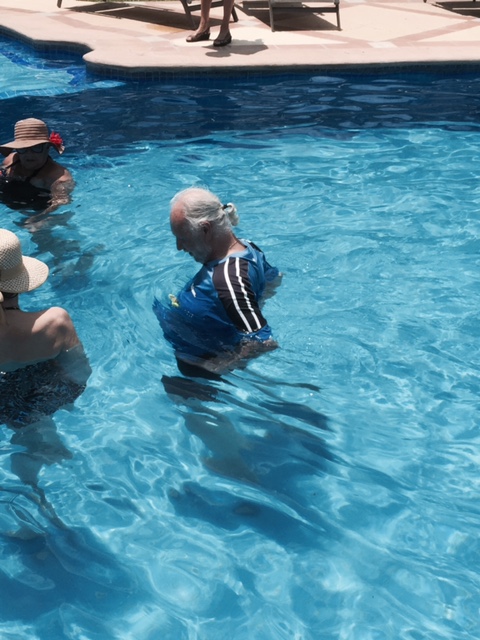 About 15 LCJC members and guests gathered at Sheila Turner's lush condo pool and pavilion for an afternoon of food, drink and hijinks around the pool and surrounding area.
We were all optimistic that the gray looking day would give way to some sun and heat, but in the meantime, we did the Jewish thing – we ate. Have-a-Rah Rah! set out a selection of sub sandwiches from Subway, together with side salads, add-ons and condiments, and other folks brought snacks and drinks which we enjoyed amid a musical background of our generation's Oldies but Goodies.
Less than hour after start time, the sun beamed down on us. Some were eager to get into the pool; a few, more reluctant partygoers needed a little encouragement. Eventually, the entire group found its way poolside, for swimming, dunking or just relaxing on a chaise.
Inhibitions were tossed aside, thanks to Tina Aronowitz, who tenaciously encouraged us to let the child out with some outrageously silly, but hysterical competitive games. Just about everyone who could, participated in at least one event, whether in the pool or poolside. Though no one was that adept at any game, there were some winners who were lucky enough to snag some thoughtfully selected items.
This event, the fifth since we started, typifies what Have-A-Rah-Rah! is all about. LCJC wants to promote and create experiences that are social, relaxing and fun – sometimes a bit educational, sometimes, definitely not, but in every instance, we want to share an afternoon or evening among friendly people with common interests. And it seems to be catching on.
A million thanks to Sheila Turner, who arranged and provided for us to be her guests and use the beautiful facilities where she lives. And special mention to Tina Aronowitz (and drafted helper Jack Aronowitz) for all the food runs.