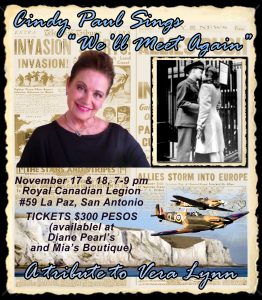 This Project started with a friend who liked Vera Lynn very much, so I rounded up some of her music, especially the World War II songs. The idea of putting on a musical celebrating Vera Lynn began to take shape, and, since I did something similar in Canada, it was a matter of tweaking the program.
Vera Lynn, who turned 100 on March 20th this year, was widely known as the Forces Sweetheart. Her musical recordings and performances were enormously popular during World War II as they kept the spirit of the Forces on a high note. She got her own show "Sincerely Yours" in 1941.
Vera Lynn visited allied troops all around the world during war time. She received the Order of the British Empire in 1969, became Dame Commander of the Order of the British Empire in 1975, Commander of the Order of the Orange-Nassau in 1985, Officer of the Order of Saint John in 1998 and Member of the Order of the Companions of Honour in 2016, plus a multitude of honorary awards.
Do join us in wartime England for a musical  revival of our favourite Vera Lynn hits.
Proceeds of this production will go to the Royal Canadian Legion to help Veterans and elderly people. Come at the Royal Canadian Legion at 59 La Paz, Ribeiras (also known as the Casa de la Musica) for an entertaining evening. Tickets are 300 pesos and are available at Diane Pearl and Mia Boutique. The show will be on Friday, November 17 and Saturday, November 18